Archive for July, 2009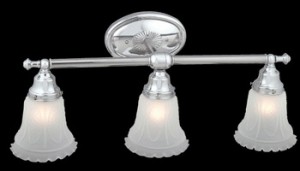 If your bathroom doesn't have a skylight or large windows, it lacks natural light, which is the best for shaving and applying makeup. Some artificial lights have an unflattering, yellowish tinge to them, making you look sickly and tired in your own bathroom. To start your days off right, you should invest in soft white bulbs for a flattering glow. If your bathroom light fixtures are the problem, they may need to be replaced.
Installing new vanity lights can make a world of difference in your bathroom. The more light you have, the better, so replacing a single light with a row of three or four would be a monumental improvement. Make sure the fixtures are made of white frosted glass, not yellow, so they cast out a soft, flattering glow. Repainting your bathroom with a warm color, like a soft blush or beige, can also do wonders for your complexion.
No Western theme home is complete if the bathroom decor is overlooked. Cast iron horseshoes, stars, and western conchos can be crafted into beautiful pieces of nostalgic art, reminiscent of the Old West. The rustic beauty adds charm and charisma to any setting where Western Bathroom Decor is desired. Break away from the norm and add some western class to your bath.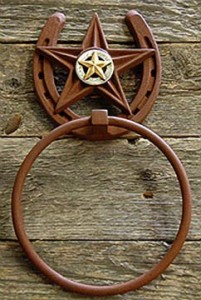 With the advent of warm weather season, why not adopt a decorative garden sprinkler to spruce up your lawn or garden. Decorative Sprinklers and Hose Bibs create interest, and are sure attention grabbers. Be it a cast brass snail, turtle, frog, or other adornment, these cute creatures will add a little bling to your yard and garden decoration.