Archive for the 'Game Sets' Category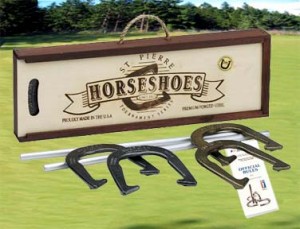 For summer fun, don't forget that the game of horseshoes is a great option for the whole family. Horseshoes is an ideal game for two or more people. The only equipment that's required in a horseshoe game is four horseshoes, one stake, and a little bit of room. After that's acquired, each person takes turns throwing his or her horseshoe. The goal is to come as close to the stake as possible. Point scoring differs slightly between amateur and professional play, but generally it is three points for a ringer (when a horseshoe encircles the stake) and one point for coming closest to the stake.
In amateur play, a leaner (when a horseshoe literally leans on the stake) is worth two. In professional play, this is often considered one point. If both parties throw a ringer, they generally cancel out. That is, each player does not score three points. Play can go to any agreed upon number, but the most common benchmark is twenty-one. A player must win by two. Players are only awarded points if a horseshoe is within six inches of the stake. But again, these rules are often altered or tweaked to accommodate games that are just for fun.