Archive for the 'Clawfoot Bathtubs' Category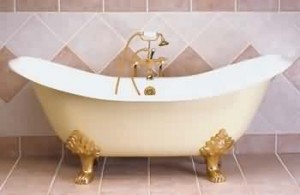 There's nothing quite like taking a relaxing bubble bath in an old fashioned bathtub.  I think of all the old fashioned bathtub designs, clawfoot bathtubs are my favorite.  When I was little I can remember taking a bath in the clawfoot bathtub at my grandma's house, and I was always fascinated with the idea of a bathtub that had feet.  In fact, my grandma used to tease me that while I was sleeping, the bathtub would get up and walk around the house!  I even remember waking up during the middle of the night, running to the bathroom, and making sure the bathtub was still there! 
When I had my own house I knew I wanted a clawfoot bathtub of my own.  It took me a while to track down a vintage bathtub that would fit well in my bathroom, but when I did, I ordered it right away.  Now I can enjoy a good soak just like I used to when I was a little girl!